Volunteer Projects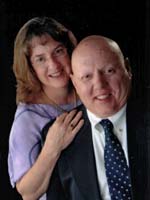 The Principals of the Company have been extensively involved in volunteer work for the past 20 years. Highlights include:
Donald J. Hoffman
National Management Advisory projects for SEND International, Farmington Hills, MI and Glennallen, AK, North American Baptist Conference, Oak Brook Terrace, IL, Sioux Falls, SD, Edmonton, BC and several locations in Oregon.
Service with the American Red Cross as a chapter chair, state council chair, and western regional council. Service on three national task force assignments from 1995 - 2010.
Member of the Wasco County Planning Commission from 1993 - 2013, chair for 10 years.
Board Chair of Horizon Christian School, Hood River, OR since 2003. During 2006, the school financed, constructed and occupied a 9 acre, 51,000 square foot new campus.
Susan L. Hoffman, RN
Senior National Volunteer with the American Red Cross having served on more than 50 national disaster relief efforts including Katrina and 9/11.
Volunteer Nurse for Cross Roads Medical Center, Glennallen, AK for approximately 6 weeks per year from 1992-1998.
Two week Medical Projects from 1991- 2001 in second and third world countries including Mexico, Ecuador, Viet Nam, Ghana and Kosovo.